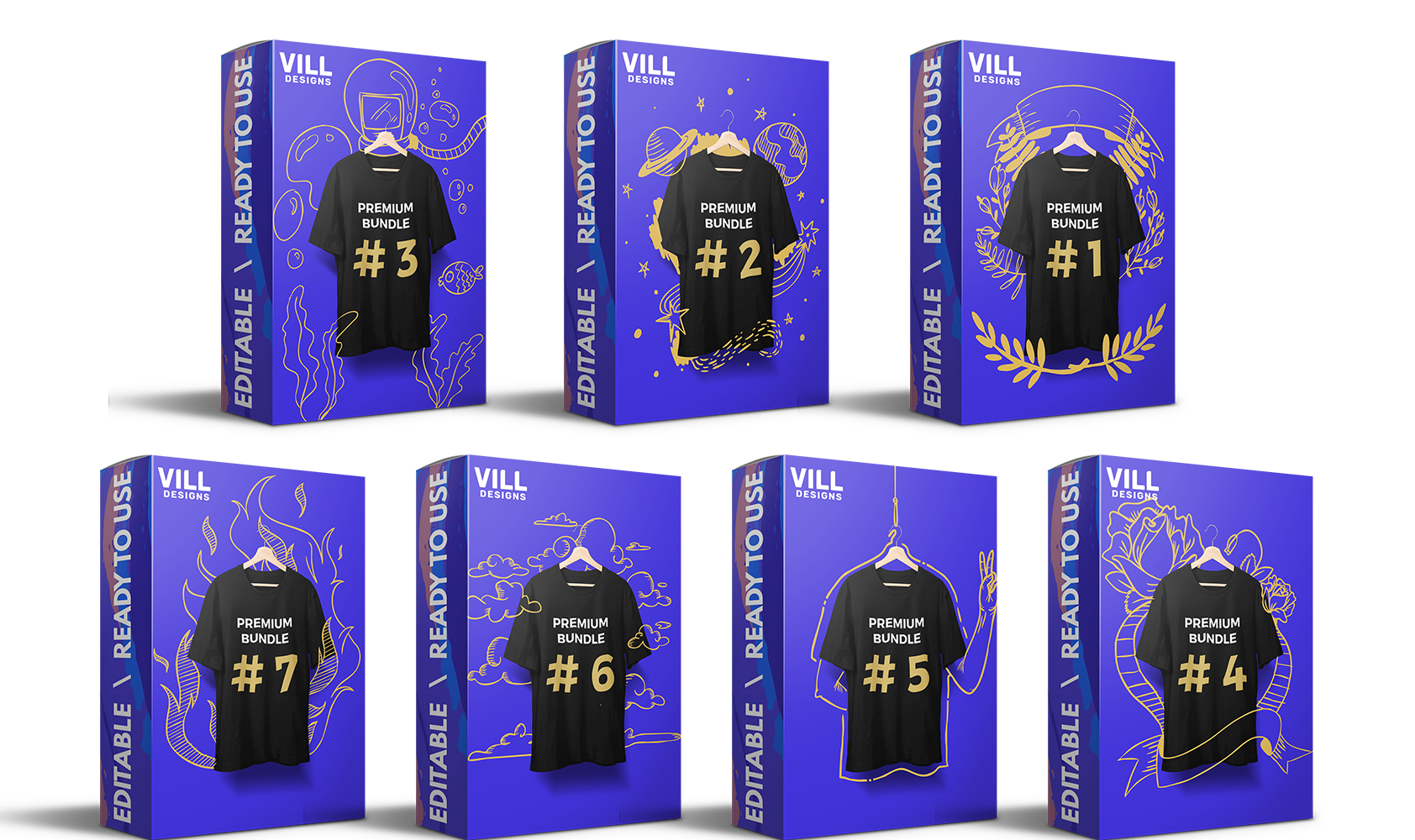 Take your T-shirt business to the next level with 2400 premium T-shirt designs
★

A special collection of the best designs we ever created
★
7 Bundles, 300 designs in each one
★
Funny, witty, clever, and engaging designs
★
Beautiful hand picked graphic elements
★
Ready to use \ editable
★

Special

bonus

:

300 Holiday Designs Bundle
Take Your T-shirt Business To The Next Level With Designs That Are:
Ready To Use
All the designs come in a ready-to-use PNG format with a transparent background. 300 DPI 4500×5400 resolution.
Engaging
The designs are funny, witty, clever, and engaging, which means they attract more attention and generate a lot more traffic and sales.
Highly Converting
With years of experience in the industry we know the exact formula of creating high quality winning designs that SELL.
Editable
We also provide the designs in the original PSD format so the text, colors and graphics are all fully editable using Adobe Photoshop.
Made By Pros
Our team of elite designers and T-shirt business experts creates only high quality attractive designs.
Delivered Quickly
Right upon purchase you will get a download link to your email.
Frequently Asked Questions
Are Those Designs Also In The 1200 Designs Deal?
No, Those designs are not included in the 1200 designs deal.
Are The Designs In A Specific Niche?
No. In every bundle there is a combination of designs in various niches and topics.
How Do I Get The Designs?
The designs are delivered on the last day of every month to all members via email. You don't need to to log in to doanload the files. The bonus bundles will be delivered immediately after you sign up.
Does It Work With Every Printing Method?
Yes! The designs come in a Print-Ready PNG format. The resolution is 300+ DPI 4500×5400 pixels. This format is compatible with every printing method and equipment and with all the major Print On Demand platforms.
Can I Use The Designs Commercially?
Yes! Our license allows you to print and sell the designs on T-shirts, hoodies, posters, mugs, pillows, stickers, caps etc.
You can sell an unlimited number of copies.
You can use the designs for promotional purposes – advertising, flyers, website banners, presentations etc.
You can change, edit, and customize the designs as you wish.
You cannot transfer, resell or redistribute the design files in digital format.
How Can I Edit The Designs?
You can edit the designs using any software that supports PSD files. The tool we recommend is Adobe Photoshop. In Photoshop have all the features available to easily customize whatever you want in the design. Another good tool is Photopea, which is free. You are allowed to edit and customize the designs however you wish.